Light and Motion Commuter Combo
Headlight and Taillight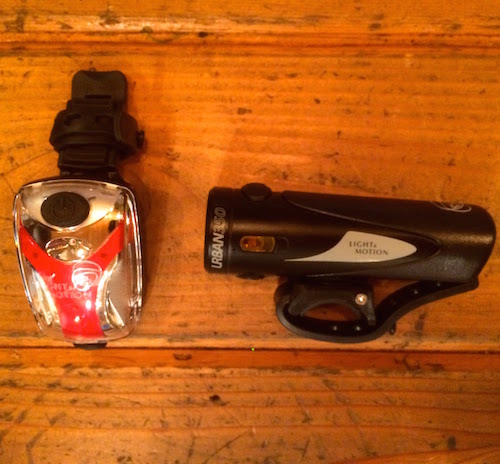 Details
Rechargeable via Micro USB (included)

Burn time: 1.5-12 hours (front) and 4-20 hours (rear)

Power saving mode dims front light when battery life is low

http://www.lightandmotion.com/
About Light and Motion

Light and Motion started with underwater dive lights 24 years ago. Building off of their success in that field, they have grown their lineup to include camera lighting, dive lights, hiking lights and cycling lights. The inception of the cycling line was almost 10 years ago, with their Urban line starting in 2011. All of Light and Motion's lights are made in the USA, with an emphasis on sustainability and responsible manufacturing practice. All of their lights are extensively tested and assembled in house, in Marina California, with between 50-70% of their small parts sourced within the USA.

The Lights
The Urban 350 Combo is Light and Motion's most affordable light-set for the urban cyclist. Though intended for use by commuters, the lights also work very well for occasional off-road adventures, or as supplemental lights. We have tested these lights for well over a year now, in a variety of conditions and settings.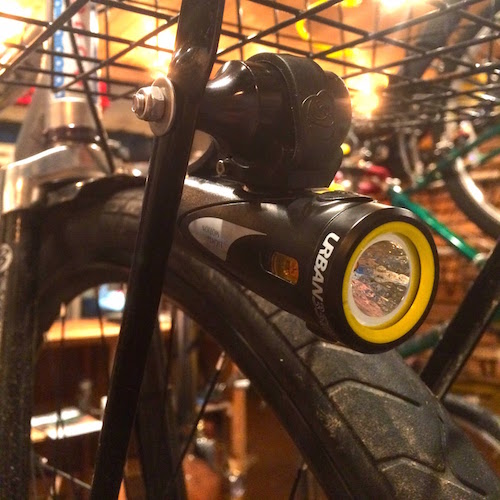 Out of the box, these lights have a distinctly different feel and appearance than other lights in their class. The packaging is very sleek, and everything is very simple to understand and use from the start. First use prompts the discovery of an interesting function of the headlight, called "lock-mode". This is a setting designed to keep the light from getting turned on after being unceremoniously tossed into the bottom of your bag with all of your stuff. This is great news for anyone who has gone to grab their light at the end of a day of work, only to find that it has burnt itself out illuminating the inside of your panniers all day. The headlight has three settings, my favorite of which is the "pulse setting", which is L&M's alternative to the somewhat jarring "flash" setting used by other lights. The pulse setting gently goes between the brightest and darkest setting, while never fully turning off, making it much easier on the eyes while continuing to be attention-grabbing. Installation of the lights onto the bike is a breeze, and the rubber straps, when pulled tight, keep the lights firmly in the position you've intended them to be in.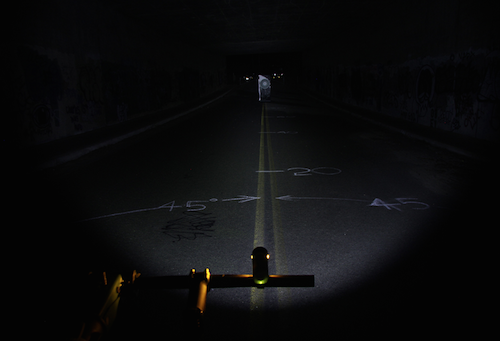 On the Road

From the first ride out, it was immediately apparent that these lights will put you firmly into the "see and be seen" category, as opposed to the "just visible" category. For rides around town, the lights have made me feel safer, and not just because cars can see me coming. The headlight does an excellent job making visible all of those potholes and patches of glass that frequent the less illuminated sections of Portland. The beam spread is really consistent and provides an excellent, steady gradient to dark, unlike some other lights with the same output I've tried. The headlight has been substantial enough for adventures through Forest Park at night, though if you're doing trail riding, I would suggest another light to supplement. Once you get going fast on singletrack, it's a bit too difficult to keep track of what exactly is in front of you. I think it works best on the helmet, with your more powerful light on the handlebar in those situations. Run-time has been pretty consistent with both the front and rear lights, and thus-far I haven't been caught out in the dark with a dead-battery by fault of the light. The indicator on the back of the light is a good gauge for battery life and for when you don't pay attention to that, the light gives you a flash when it's in the final quarter of its life. When the tail light dies out on the road, it runs for a short time in a low output orange colored setting, which continues to make you visible while you scramble back home. It is also worth noting that after a year of testing, both lights are still working flawlessly.
Issues
The run-time can be pretty short when you're looking to go out on a several hour ride in challenging conditions. There are a few lights on the market that have longer runtimes on their highest settings. That being said, for something made in the USA with a best-in-class beam-spread, I'm willing to take a small hit on run-time.

After 4-5 months the pivot arm that attaches to the tail-light started to wear out. It's a simple system that uses a bolt to hold tension on interlocking plastic teeth, which had worn down after many nights of installation on different bikes. After trying to fix the problem by incrementally tightening the bolt, the bolt snapped and the arm came off. Upon calling Light and Motion, they informed me that under no circumstances should I tighten that bolt, or it will snap. They sent me a warranty light a few days later. While I did ultimately break it, I think the initial problem were the result of a less than perfect design.

Final Opinion
This light set is perfect for the urban rider who is looking for something a little nicer to make their commute safer, and their nighttime adventures a more fun. Both lights offer best-in-class illumination, construction, ease-of-use and function at a relatively low cost. Being made and mostly sourced in the USA is the cherry on top.